"Ginger & Johnnie" WINS BEST IN SHOW in the January 2018
Gateway International paintingcontest.org
Tina a Three-Time Finalist in the 13th Annual ARC Salon
The 13th International ARC Salon Competition had over 3,750 entries from 69 countries and I'm very, very proud to have three works as finalists in two categories!!!!!!! My warm and huge congratulations to all the winners and my deep thanks to Kara Lysandra Ross, the Ross family and everyone at the Art Renewal Center who makes this outstanding, world-wide competition possible.
Tina Invited to Teach with the Best
at The Florence Studio in Florence, Italy in 2018!
Tina will join great painters like Romel de la Torre, Cesar Santos and Michelle Dunaway as part of The Florence Studio's 2018 workshop staff. Registration is open and space is very limited. Just 6 spots left for Tina's September 2018 5-Day Painting The Portrait From Life Workshop. Register at TheFlorenceStudio.com
Tina's painting, "String of Pearls" exhibits at the MEAM in Spain!
Look!!!!! Looooook!!! There's "String of Pearls"!!!! Be still my heart!!! Thank you to the Ross family and the Art Renewal Center! I'm over joyed with pride to have an award-winning piece in the prestigious 13th Annual ARC Salon, exhibiting at the MEAM, Museum of Modern Art in Barcelona Spain September 22 through November 27th. "String of Pearls" (far left) is the second work of Tina's that is now part of ARC's renowned collection of master works dating back to the 1700's!
Rosemary & Co. Brushes makes a Tina Garrett Set!!! This is such an incredible honor! Rosemary & Co. Brushes are the finest hand made brushes used by artists all over the world and I am so honored Rosemary and Symi find my work worthy of offering a set for my students. You can order yours too!

International Artist Magazine Awards Tina with
Grand Prize in their
Annual People & Figures Competition!
See the April/May 2017 issue of International Artist magazine and the four-page article in the April 2017 issue of American Art Collector magazine!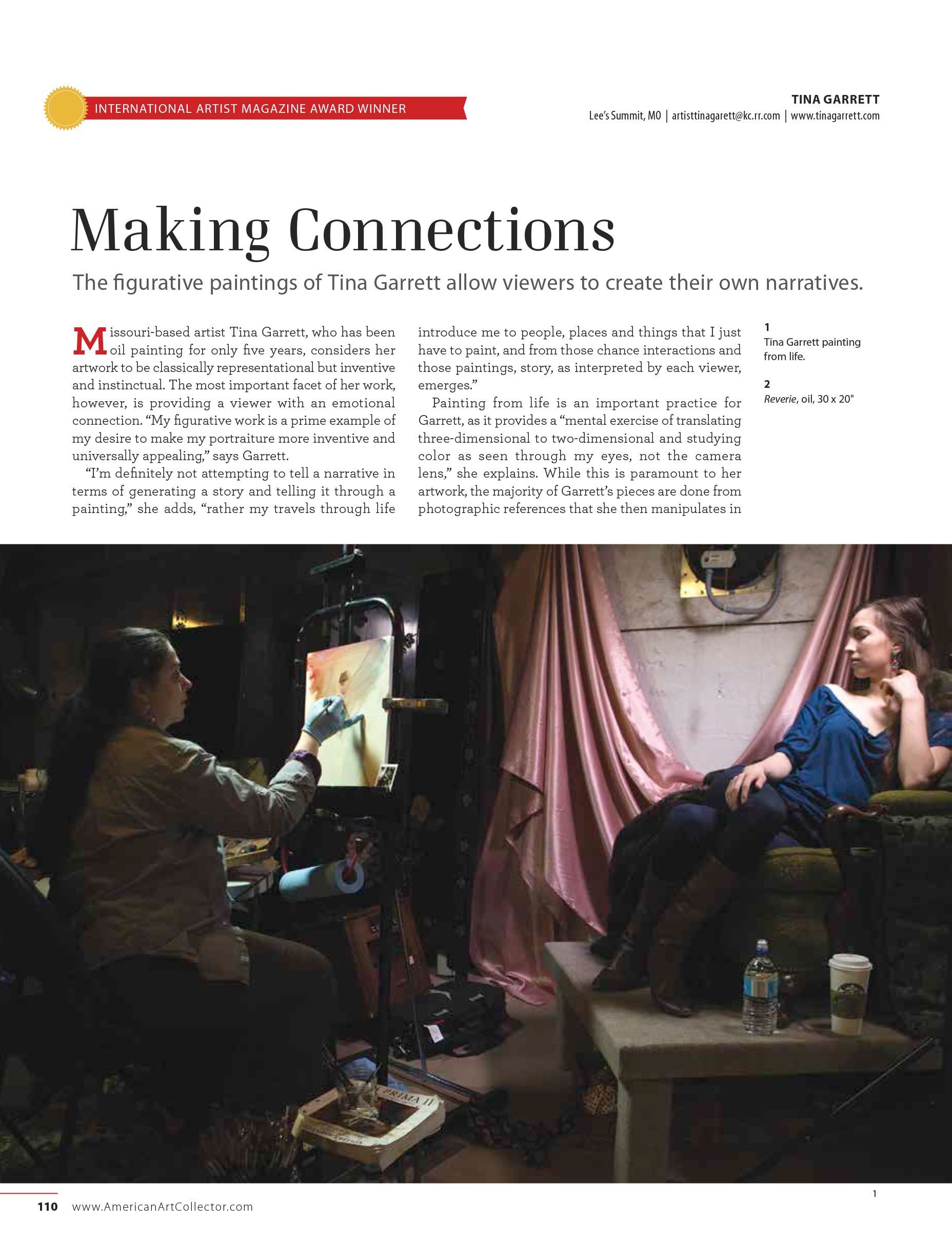 Email Tina to receive the full article in PDF format
artisttinagarrett@kc.rr.com
USA Today Best Selling Author chooses Tina to Paint Book Cover!
When Rebecca Forster first approached me about this project and gave me a short description of the main character, Hannah, I was already hooked. I had a clear and beautiful vision of what I wanted to paint. It's easy being inspired by such a brilliant and exciting writer. The book cover for Hannah's Diary and original painting are below. Visit this link to get your free download of Hannah's Diary: http://rebeccaforster.com/starter-library/
TINA FEATURED IN FINE ART CONNOISSEUR
Southwest Art Magazine Names Tina Artist to Watch!
Click the Image Below to Read the Article: